Why Choose Ashfield Baptist Homes?
Ashfield Baptist Homes Limited is a not-for-profit organisation owned by Ashfield Baptist Church.
With over 70 years' experience caring for seniors in Ashfield, we understand quality care centres round so much more than clinical demands. We take pride in creating supportive home environments with person centred care based on our residents' individual needs.
Our facilities are beautifully landscaped, featuring several internal enclosed courtyards and balconies, and a large established garden area. Regular internal and external audits are conducted to ensure we create the best possible environmental spaces for all residents which are purposeful, sociable and peaceful. Features engaging sight, touch, sound and smell are all incorporated.
Accommodation options
We offer a range of quality accommodation options that meet all standards relevant to ageing in place and high care residential aged care services.
All our accommodation features 24-hour comprehensive nursing care provided by a team of qualified professionals. Our residents are close to the local community with a nearby Church, parks, RSL club and transport links.
Our accommodation is supported by a full range of clinical services appropriate for all permanent and respite residents who have an Aged Care Assessment Team (ACAT) assessment, including residents with a diagnosis of dementia.
We respect cultural diversity and gender equality and cater for Aboriginal and Torres Straight Islander people (55 and over).
Assessment during Application
Prior to applying for respite or permanent accommodation, applicants are first assessed by an Aged Care Assessment Team (ACAT) to determine what level of care they may need.
We then assess the potential resident's care needs against our current availability in A.H. Orr Lodge and Bethel Lodge.  Suitability of room, resident care profile, financial issues and regulatory guidelines are all considered.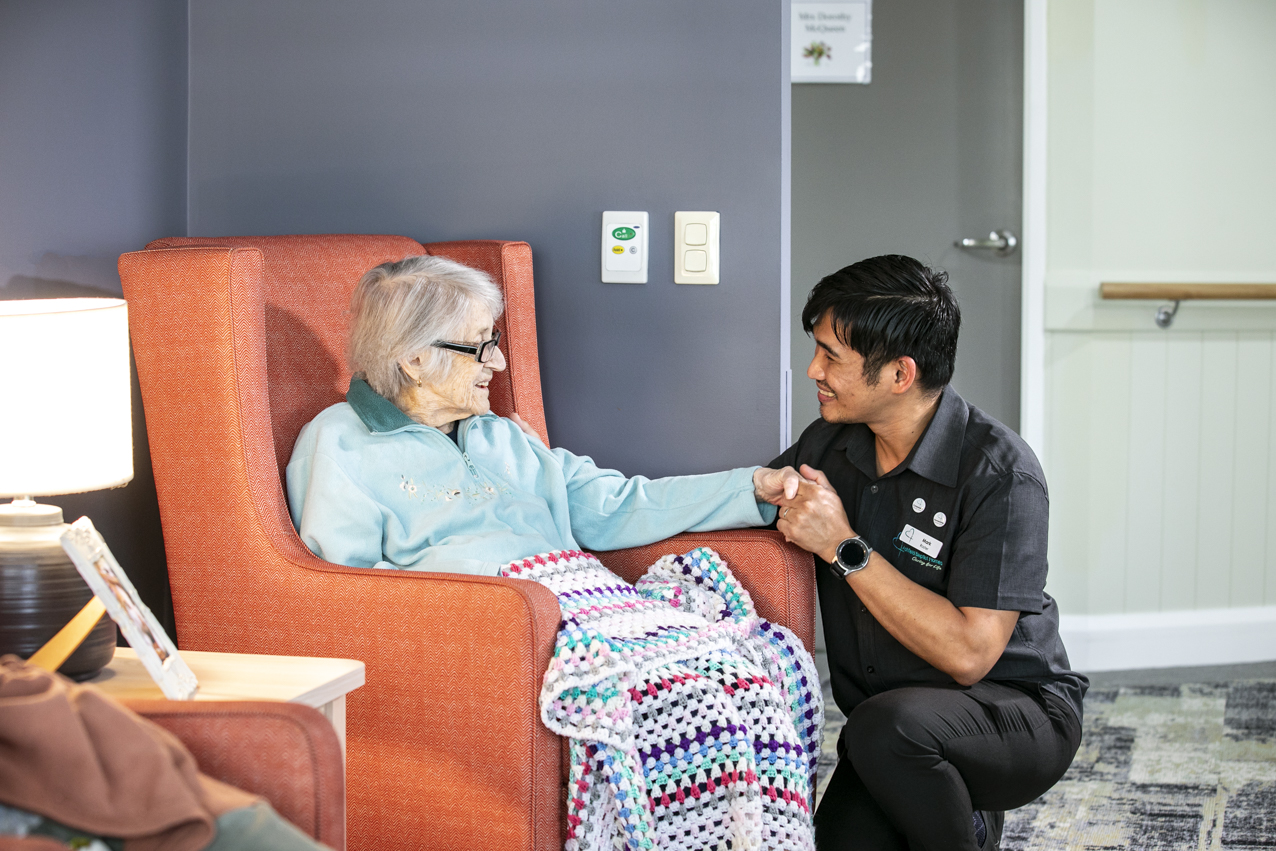 Respite Care
• What is Respite Care?
• Why choose Residential Respite Care?
• What are the fees for residential respite care?
• Application
"To the lovely staff who looked after my mother with kindness, professionalism, integrity, loving care and security – thank-you."
"Knowing my mother was in such good hands brought a sense of peace to our family."
"Our heartfelt gratitude and appreciation to all at Bethel – the diamond of the Ashfield community in aged care."
"Thank you all for all you do for Mum especially in these crazy times."
"Thankyou for your exceptional kindness, compassion and care, and for your dedication, thoughtfulness and tireless efforts in keeping all residents safe."
"While the process of moving mum into care has been a huge adjustment for all of us in different ways, the communication, support and understanding we have had from you is really valued."
"Thanks so much for your professional handling of a very difficult situation. Your protection and communication protocols have been exemplary."
"Your care and diligence have been outstanding."
"ABH is a beacon of the aged care industry."
"Congratulations for having such great procedures that are so well enforced."
Frequently Asked Questions
Being Assessed For Aged Care?
Whatever your situation, if you want to access financial help from the government, you may need to get an assessment by an Aged Care Assessment Team (ACAT).
How Do I Get An Assessment?
Your first step is to contact an Aged Care Assessment Team (ACAT). The assessment is free and they'll be able to give you more information about the procedure.
If you want to speak to someone to find out more about ACATs, contact My Aged Care on 1800 200 422 or click here.
What Does Assessment Mean?
An ACAT assessment helps the government work out which services you may be eligible for, as well as working out how well you're able to cope with daily living activities and your own care.
Do I Need An ACAT Assessment?
If you wish to access government-funded services, you will probably need an assessment. Many other service providers offer their own assessments to help you access their services.
What Is An ACAT Assessment Like?
An aged-care assessment involves a visit from one or two members of the ACAT team, who will talk through the activities you find difficult to manage. They'll then be able to discuss your options and let you know how to access the services that may be able to help you.
What Are My Rights During Assessment?
You have the right to be treated with dignity and respect.
You have the right to information about the assessment process – to be told what is happening and why.
You have the right to express your own views and ideas.
You have the right to have your personal information (such as medical history) treated in confidence.
You have the right to have someone with you during the assessment if you wish, for example a carer, close friend or relative.
You may wish to have an interpreter, which the Aged Care Assessment Team (ACAT or ACAS in Victoria) can arrange.
If you wish, an independent advocate

 

can help you with advice, or act on your behalf.

If you have concerns about the conduct or operation of an ACAT member/s, there are procedures in place to help you lodge a complaint. If any complaint cannot be resolved by the ACAT, you also have the right to direct your complaint to the relevant State department. If you're not happy with your assessment or the recommendations made by the ACAT, you can lodge a formal appeal.

 

This page

 

tells you how.
What Are The Criteria For Admission To Ashfield Baptist Homes?
Prior to applying for admission to ABH, an applicant will have been assessed by an Aged Care Assessment Team (ACAT) as being suitable for accommodation in either a low-care or high-care service.
During the application process, ABH will assess a potential resident's care needs against the service profile of either A.H. Orr Lodge, or Bethel Nursing Home.
If the care needs fall within the relevant service profile, then the applicant will be considered for admission.
Other factors, such as the availability of a suitable bed, financial issues and regulatory guidelines, also need to be taken into account.
If the care needs fall outside the relevant service profile, the applicant will not be considered for admission because it would be unsafe to try to meet their needs when the facility does not have the relevant equipment, staff or skills.
What Happens If Care Needs Progress Outside The 'Care Profile'?
In general terms, clinical staff will speak regularly with family members and carers about developing care needs.
Significant issues will be raised by the relevant Registered Nurse or the Executive Care Manager.
If the care needs are progressing to a point where they cannot be safely met in the present facility, a formal assessment will be undertaken by the relevant health professional.
This will be followed by a family conference to discuss the assessment and alternative care options.
The outcomes of the family conference will then be documented in a letter to the resident's representative.
In these circumstances, it is important to note that the resident's safety is the critical factor in determining whether their care needs can still be met in the local facility.
Should a move become necessary, we will assist in locating appropriate alternative places of care.
Generally, this will occur over a period of time and there will be opportunity for discussion and preparation for any change.
Sometimes, this process can occur quickly. For example, if a resident is transferred to hospital and is reassessed in hospital with a care need outside the facility's profile.
Should this eventuate, ABH will assist, if necessary, with finding alternative accommodation. This may be within ABH or with another aged-care provider.