History, Mission, Values, Principles
History
Ashfield Baptist Homes was established in 1950 under the leadership of Reverend Harry Orr.
However, our legacy as an aged care facility extends back even further.
In the early 1930s Christian nurse Ann Scurr felt the need for a place of refuge for elderly folk. Ann nursed during World War I and through the disastrous influenza epidemic of 1918-19. Widowed at a young age, she had no finances, but she followed the courage of her convictions through prayer and searching for the right property.
In 1931 she inspected 'Surbiton', an 1881 federation home belonging to local solicitor Marsham a'Beckett and his wife Edith. The house was perfect, but there was only one problem.  A holding deposit of £50 was needed – an average three-month salary in those days. Ann believed firmly that 'the Lord will provide'. On the final day of the holding period, an anonymous £50 donation arrived in the mail.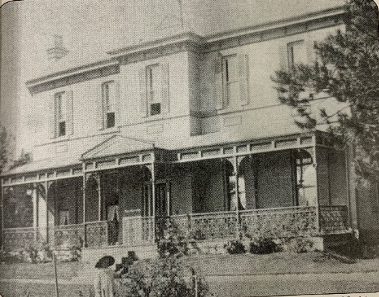 'Surbiton'
As the a'Beckett family home.
Courtesy Ashfield & District Historical Society
​The next step for Matron Scurr, as she became known, was to secure a bank loan and meet the regular repayments.  Not an easy ask for someone with no income or equity during the Depression years.  But her enterprise touched the local bank manager's inner soul, and he agreed.
After Matron moved in, furniture and more cash donations began to flow in. She was chastised by her Brethren congregation for being rash in stringent times, but she never wavered from her vision.  The house was named Bethel Rest Home ('God's House') and Matron never defaulted on a single payment.
Matron's incredible Christian faith and demeanour was constantly referred to in recollections. Bethel's reputation grew and by 1933 there were three Christian nurses.
"Our method of transport was a pushbike for messages to the butcher, pharmacy and some others. The baker and milkman called every day." John Howes (Retired), Baptist Minister
​By 1950 Matron's church congregation was keen to acquire Bethel. But this created a dilemma for her. They made it clear that the care home would be restricted only to members of that denomination, to the point of removing existing residents.
Ann was loyal to her church, but its intention was foreign to her philosophy. In 1950 Harry Orr was the Minister at Ashfield Baptist Church and a mature and experienced theologian. Matron was swayed by Harry's assurances that the home would continue to accept people from all denominations, whether Christian or not.
In June 1950 Ashfield Baptist Church became the lessee of Bethel Nursing Home. Ashfield Baptist Homes operations began with just 23 residents, but by 1997 the facility was transformed into the dual-facility, 136-bed, modern, comfortable and high-tech operation it is today. ​
Mission
To make a positive difference to people in need by providing quality aged care based on Christian principles.
Values
Our five core values are enshrined in all that we do. Each year we recognise our Staff's commitment to our values by seeking nominations from residents, their families and friends, and other staff, which are awarded at a special ceremony.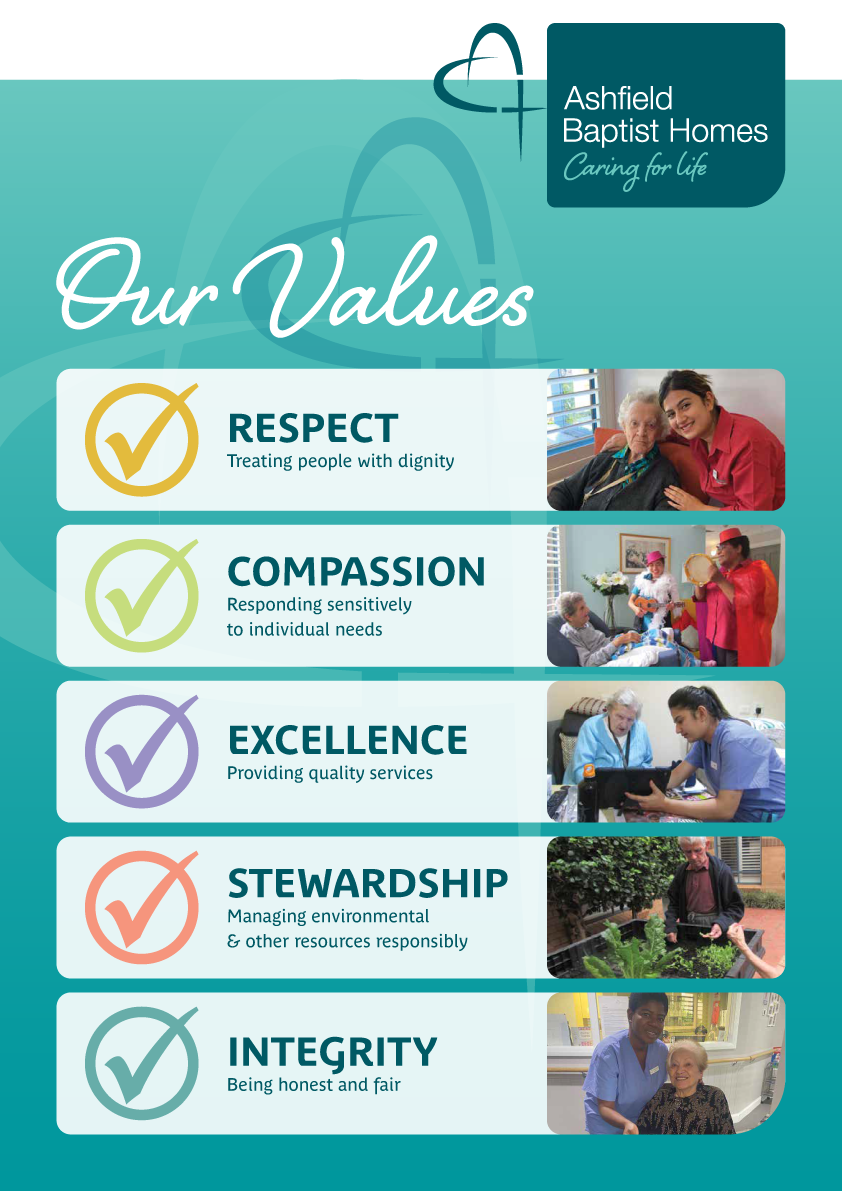 Ashfield Baptist Homes Limited (ABH) is a not for profit organisation providing quality aged care services in the Inner West of Sydney. We offer care to all people regardless of cultural background, religious denomination and gender, including Culturally and Linguistically Diverse (CALD) individuals, Aboriginal and Torres Strait Islander (ATSI) people, people with disabilities and members of the Lesbian, Gay, Bisexual, Transgender and Intersex (LGBTI) community.
ABH is an independent organisation affiliated with Ashfield Baptist Church. We are one of only two wholly independent aged care providers in NSW and Victoria.  Our links with the Church are important to us, as are those with the local community, other aged care providers and industry associations.
Faith, and our conviction that genuine faith is evidenced by good works, has always been the driving force in our endeavours. We seek to follow the example of Jesus and are motivated by his command to "love your neighbour as yourself" and his parable about the Good Samaritan who ministered with compassion to a stranger and foreigner.
We believe all people are made in the image of God and have intrinsic worth that does not diminish with age or infirmity. Therefore we will maintain and enhance each person's quality of life and individuality, treating them with dignity, respect and justice. We will also provide responsive and personalised care that encompasses the physical, social, emotional and spiritual needs of our residents.
We strive to be good and faithful stewards of our resources including environmental, financial and human resources, recognising that they have been entrusted to us by God. We affirm the central role of our staff and volunteers and the value of their work. We are committed to providing continuing staff development, a safe workplace and an environment that respects cultural diversity, gender equality and encourages the demonstration of our values.